City Carpet Cleaning
City Carpet Services has been serving Saskatoon, Sk. since 1914. With over 100 years in business, we specialize in area rug cleaning and carpet binding & serging.
We clean all types of area rugs and carpeting in our plant from wool oriental rugs such as Persian, Indian, and Chinese rugs to synthetic area rugs and carpeting removed from wall to wall installation in homes. Whether you want left over carpet to be made into small mats or larger pieces made into area rugs, City Carpet Services can cut it to size and finish it for you right here in our plant. Give us a call today!
About City Carpet Services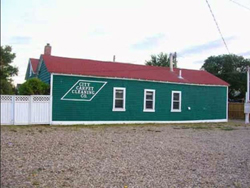 City Carpet Services began when Saskatoon was just a dusty prairie city in 1914. In 1916, Thomas Arthur Dawes purchased the business and soon expanded the carpet and area rug cleaning services to also include rug and carpet binding.
The business continued to grow, as did the Dawes family, with the birth of Fred, the business's future successor, and first child to Thomas and Edith in 1916. Fred was soon followed by his seven siblings and shortly thereafter in 1930, Thomas Dawes, unfortunately, passed away, leaving Edith to operate the company while also caring for their children through the "dirty thirties" and the "great depression". Despite these challenging times, Edith persevered with her hard work, pioneer spirit, and the assistance of her children, and so did City Carpet Cleaning.
After the Second World War, eldest son Fred, partnered with his mother operating the family business until her death in 1957, leaving Fred as the sole proprietor. In 1960, Fred married Shirley and she filled in the role as Fred's business partner, providing the behind the scenes office support that is essential to any successful business. Fred and Shirley continued to build on what was started in 1914 and early in the 1960s, welcomed two sons of their own, Tom and David. Their sons assisted with the family business throughout their formative years, as their relatives before them had, with Tom eventually taking over the family business from Fred upon his retirement in 1983. Tom married Danielle in 1987, and they welcomed two daughters, Lauren and Paige, into the Dawes family in the early 1990s. With Danielle providing support on the home front and Shirley continuing with office support, the business continued to grow.
To this day, the Dawes women continue to provide the much-needed home and office support and have been the strong and quiet backbone of City Carpet, starting with Edith in 1916, followed by Shirley in 1960's and through the decades that have followed to present day.